As Carnival (or Carnaval in Portuguese) is upon us, now is a good time to write a little about it, even though it is a celebration that does little for me personally.
First off, Carnival is perhaps Brazil's most important holiday and is certainly the longest.  Businesses tend to shut on Friday afternoon only to reopen at midday on Wednesday.  I still find this idea of going to work at lunchtime after 4 or 5 days of partying a strange concept although I suppose it does provide a little time to get over any hangovers.
The dates of Carnival weekend vary from year to year in the same fashion as Easter.  They are the last days to party before lent, meaning that Carnival celebrations are the weekend before Shrove Tuesday/Ash Wednesday.
Carnival – Rio de Janeiro
Carnival varies somewhat from city to city.  In Rio de Janeiro, the main event takes place at the Sambadromo, a 700m long avenue with spectator stands either side, on Sunday and Monday of the weekend between 9pm and approximately 3:50am.  Each day 6 different samba schools take their turn to parade along the avenue.  Each school has 3,000 to 5,000 people dressed in various costumes.  Additionally, each school usually has about 8 specially designed floats themed to the schools overall theme of the year.  You can find out a lot more here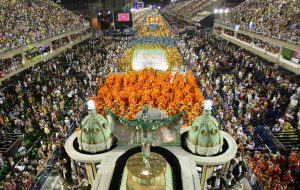 Carnival – Salvador
Perhaps the second most famous Carnival city is Salvador, where in true local style it starts on Thursday and carries on to Wednesday more or less all day and night long.  In Salvador they have many trios which are floats or trucks with bands/dancers that drive slowly around the city's streets.  People can  follow a particular trio around, protected from the crowds by security guards, by buying a pass to become an abada. Another way is to buy a ticket in a camarote where you will have the comfort of food and drink.  The third way is to simply walk the streets and pavements.  This is called pipoca (usually translated as popcorn) and is the least comfortable and safe option.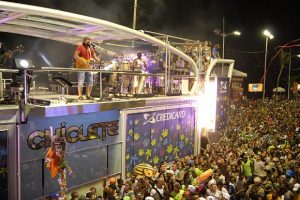 Other cities celebrate  may elect to celebrate Carnival on different days or even different weekends.  For example, Sao Paulo has a similar parade to Rio that takes place on Friday and Saturday.  Other cities, such as Belo Horizonte where I live, don't have any major events, but instead have many smaller street parties or blocos, a smaller, less organised version of a trio.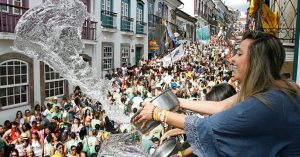 Another popular destination for Brazilians are the historic cities, such as world heritage listed Ouro Preto.  In Ouro Preto, most people stay in a 'republic' – a sort of dorm/hostel where facilities are shared among many.  The atmosphere is lively with various stages dotted around city's cobbled roads and numerous churches. the .  It is a 4 or 5 day party with little sleep for most