What is a beach holiday during winter like in Brazil?  Following our 1 week's trip to Trancoso in the state of Bahia, let me try to explain.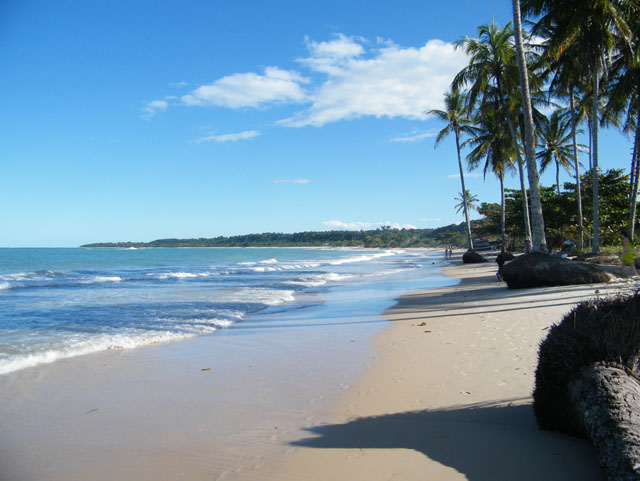 Firstly, in the state of Bahia at least, the temperature is very very different to the British (oops nearly wrote English!) winter.  The temperatures were in the mid to high 20's during the day and high teens at night much like our summer.  The only downside at this time of year is that it can rain and be a little windy.  It rained most days, but not for long and it was always possible to spend some time in the sun on the beach.
That is not all, there are something over 33,00 kilometres of beach in Brazil and a population of about 185 million so the beaches are not crowded especially in 'winter' holiday.  There are of course exceptions to this, but with a little searching it isn't hard to find some space.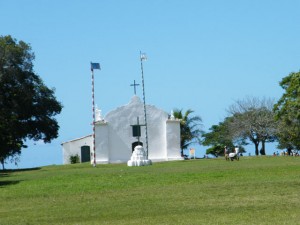 However, the deserted sections of beach are lacking an important facility.  Here it is customary for bars/restaurants, or private individuals in the case of Rio de Janeiro for example, to layout chairs, tables and parasols for their customers.  There is usually a waiter just a 'moço' (boy) call away.
The beach also has its entrepreneurs who walk up and down between the bars selling their merchandise such as costume jewellery, suntan lotion, sunglasses.  In Rio you can find almost anything on the beach!
With regards Trancoso, it is a smallish community that was once described as a beach for 'hippies', more recently as a beach for chic hippies, and now as a beach for the chic.  In truth, I would say, as is often the case in Brazil, it is a mix of the poor and the rich.
To get to Trancoso, you either need to fly, as we did, or take a bus.  A flight from Belo Horizonte to Porto Seguro is about an hour long.  From Porto Seguro, it is an hour's drive either by road (about 45 miles) or by ferry across the river ? from Porto Seguro to Arraial d'Ajuda and from their a drive of  about 25 miles.
The historic town is built around the 'Quadrado' with the church at the ocean facing end and shops/restaurants running down either side.  The shops mainly sell hand made things from the local artisans.  The restaurants serve mainly local Bahian/Brazilian food with lots of seafood.  We did however eat at an Australasian restaurant called 'Masala' where I had my first curry in Brazil.  It was surprisingly very good and well worth a visit.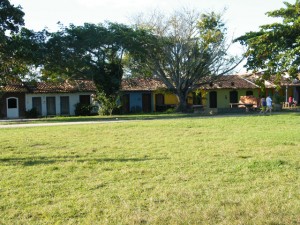 The accommodation is mainly 'pousadas'.  They are a bit of a cross between a small hotel and a bed and breakfast.  The >one we stayed at was lovely and very close to the centre.  The other option is to stay at pousada on the beach which is a 10-15 minute gentle walk downhill.  If you feel like something more luxurious, there is a Club Med on the coast between Arraial d'Ajuda and Trancoso.
In summary, Trancoso is a lovely small town with huge amounts of character and a great place to spend a week relaxing on the beach or by a pool.  It isn't a place I'd suggest if you want a lively place.  We are already considering a return visit!
If you want to see some more photos from our trip, you can see them here.
With regards the website, it is still very much underdevelopment, but I hope to have the design finalised fairly soon and then I'll start adding content to the various sections.