I'm often asked by friends and students "What do British people think of when they think of Brazil?".  I have to say beautiful beaches and women, carnival, the amazon rain-forest and crime.
Dealing with the last first, there is undoubtedly serious crime in Brazil, particularly in the big cities.  However, and I hope it stays this way, I haven't personally had experienced this.  In fact, I've been told several stories about people going to the UK and having things stolen that weren't stolen in Brazil.  I think with some common sense and staying away from certain neighbourhoods, then there isn't a huge amount to worry about.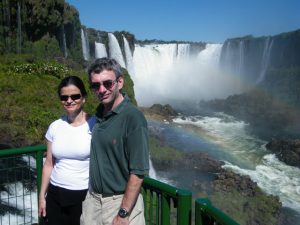 With regards my other answers, they are true, but there is so much more that Brazil has to offer.  For example, the beaches aren't just Copacabana, Ipanema and Leblon in Rio de Janeiro.  Brazil has about 2800km of beaches and, in my experience, most of them are spectacular and many exceed the beaches I've seen in other parts of the world.
So, apart from the beaches, where would I suggest visiting.
Foz de Iguaçu/Itaipu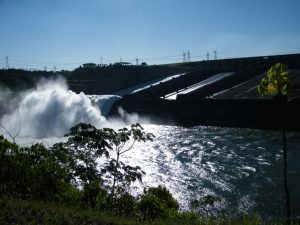 Foz de Iguaçu (or Iguazu in Argentina) should, in my opinion, be considered as one of the natural 7 wonders of the world, however, Itaipu Dam is considered by American Engineers to be one of the engineering world.  Where else, within a few kilometres travel, can you see TWO such sites.
Foz de Iguaçu is a huge waterfall which is over 270m long, consists of upto 275 individual falls with a drop of approximately 82m.  It is on the Iguaçu river which delimits the border between Brazil and Argentina.  The Devils throat is quite spectacular.  On the Argentinian side you can get almost to the very top of the falls, whilst from the Brazilian side you can take a boat and travel to the base of the falls.
The Itaipu Dam was 'jointly' built by the Paraguayan and Brazilian governments but was mostly funded and constructed by Brazil.  It dams the Paraná River just above where it meets the Iguaçu River.  The convolution of the 2 rivers marks the border between Argentina, Paraguay and Brazil, which is unique in the world as well!
The dam generates 20% of Brazil's total electrical needs and all of Paraguay's.  It is possible to take a tour of the dam which includes the control centre, a drive over the top and base of the dam.  If you are lucky, like we were. you can see excess water being released down the spillway, but this is only about 10% of the days.
For more pictures of both these sites, please see our photos.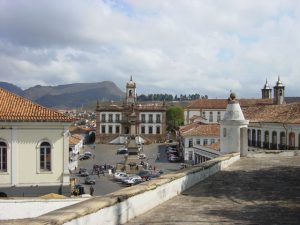 Colonial towns such as Ouro Preto and Tiradentes
These are historic cities founded by the Portuguese colonizers which are in the state of Minas Gerais (where we live). They give a glimpse into early life of Brazil.  In my opinion, many of these towns and cities are quite similar but a visit to one or more is a must.
Ouro Preto (black gold) is today on Unesco's list of world heritage sites.  It was the focal point of Brazil's 18th century gold rush and gold can still be seen today decorating many of the numerous historic catholic  churches.  It is set in a valley and was once the state's capital until Belo Horizonte was built.
Rio de Janeiro
Most people know of Rio so this is very brief.  It is really beautiful city and has many attractions such as the harbour, the lagoon, Sugar Loaf, beaches such as Copacabana and Ipanema and of course Corcovada (where the famous Christ the Redeemer is to be found).  There are many many other attractions, great restaurants.  I currently rate Rio as my second favourite city in the world.
The above are all places we have visited.  The ones below come highly recommended and are on our list of places to visit.
Fernando do Noronha
Fernando do Noronha is an island archipeligo about 350km off the northeastern coast of Brazil.  In many ways it is the Atlantic's Galapagos with the upwelling of water drawing much marine life.  However, it doesn't have as large a diversity of terrestrial animals as does the Galapagos Islands.  It is regarded as the best diving in Brazil, a fact I have yet to test.
Bonito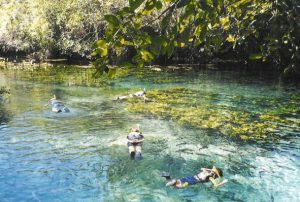 Bonito is famous for its crystal clear rivers that are a result of a natural filtration.  It is being preserved to keep its pristine natural beauty.  Activities include walking/treking and swimming/snorkeling/diving in the rivers and caves to be found in the area.
Amazonia
The amazon is a river basin surrounded by rainforest and is located in the countries of Brazil, Peru, Colombia, Venezuela, Ecuador, Bolivia, Guyana, Surinam and French Guiana.  The region and diversity is so varied that I'll mention only a few things that I'd like to see and do.  In no particular order, see the confluence of the Rio Negro and Amazon river, swim with the river dolphins and experience the rainforest and jungle.
The Pantanal
The Pantanal is the world's largest wetland covering an area of around 140,000 sq km.   It is renowned for its bio-diversity.  It is also easier to spot the wildlife in the Pantanal than in the Amazon as there are less hiding places.  As Bonito, it is predominantly located in the Brazilian state of Mato Grosso do Sul.  There are thousands of different vertebrate species to be found there.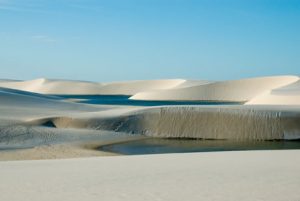 Lençoís Maranhenses
This is a region covering 1000 sq km of in the northeastern Brazilian state of Maranhão.  Despite heavy rainfall, it is a region largely devoid of vegetation with many discreet sand dunes and lakes.
As and when we visit these places, we'll write more.
So you see Brazil isn't just Rio, beautiful people and crime.  It has far more to offer.